Keep up to date with all the events and going's on at BWP via our blog.

The Three Amigos Around Island swim for "Grace Crocker Charity Challenge"
Saturday 1st August 2015
Sea Temperature 17.2
The Swimmers were:-
Toni Buchholz- the nagger – pink cap
Craig Swart – the silent assassin – green cap
Simon Haircut O'Donoghue- the talker – white cap
In support:-
Bateau Deux – RIB skippered by Ralph Buchholz
In attendance were Euan Dangerfield, Chris Baglin & Dee Richards of the Jersey Long Distance Swimming Club.
Fish Head – RIB skippered by Gavin Chittenden
In attendance were Cameron Swart & Wendy Trehiou of the Jersey Long Distance Swimming Club.
Copisetic – RIB skippered by Gary Hill
In attendance were Darin Edwards and Sally Minty Gravett of the Jersey Long Distance Swimming Club.
The Early Start
Up at 4.15 for a 5am meet up with all the teams at La Collette Marina.  Weather was perfect and boats all had lights on albeit it was just light enough to see. As I brought my boat over I could see the Buchholzs arriving through the harbour mouth and after mooring up and a few quick texts I could see that everybody had arrived including my skipper whom I had only spoken to the previous morning and can be late sometimes!  Steve Pallett on board Gygabyte and skippered by a well known local swimmer Neil Faudemer, had already left the harbour and was actually 15mins ahead of us kicking off our swim.  We had filled all the Harbour office forms in rather late the previous evening and it had transpired that the "overnight" ferry was due in at 6am and the Harbour office really wanted us out of the small roads by 5.45am so we were all somewhat in a hurry.  We also quickly met David Coleman a New Zealander escorted by the Club boat doing his first Round Island swim.  We motored out quickly putting as much Vaseline as possible around arms, necks and between legs, followed by factor 50 then some anti itch cream around face and arms.   Toni did not have anti itch cream or factor 50 suncream, but then again she is hardcore! Quickly we radioed in to Jersey Radio albeit they couldn't seem to read our signal too well.  As we motored into position at the end of Elizabeth Castle some poor chap was trying to fish off the end and we were none to helpful with all the commotion; one of his lines even nearly caught on our boat.  The Kiwi David Coleman is off, Craig is already in the water and I'm still trying to apply anti mist to my googles without getting any Vaseline or suncream on the lens. Not easy! Then Toni is in and everyone is shouting at me to get a move on.  In my haste I do a wacky dive off the boat and lose my googles – brilliant start -that's it I'm on the wall and we kick off at 5.45 am.  We were all quite nervous before the start but once you get in and get going there is a change of mind set and we managed to 'get a grip'!
The Rocky South Coast
As always I can tell we are going too fast (comes from too much pool swimming) which is not good for Craig as his old diesel engine takes ages to get going; but heh ho the water is flat and does not feel too cold at all and we have a nice rhythm going.  The sad news is there are "jellies" everywhere but after about 15 minutes I have not been stung and they seem somewhat less numerous as we pass the Dogs Nest and straighten up for Green Island.  I quickly poke my head up and shout my glee to the others who indicate they have been stung but are still smiling away massively.  The challenge we had set ourselves back in December 2014 is finally underway; the start was far too hectic to stress about anything and now we are cruising through this beautiful flat sea (Jersey at its best) and finally starting this journey.  After an hour we stop for our first feed just off Green Island. We have overtaken our fellow swimmers and I have now been stung twice by jellies but they are not bothering me as the joy of the moment is just too great. The three amigos are on their way.
Just before we arrive at La Rocque harbour a whole load of SUP boarders go zooming past. I know Andre Le Geyt & Chester are there but they are somewhat further out so we cannot shout encouragement (and I lose the opportunity for one of my well known "chats") but they are tanking along and are soon out of sight. Suddenly a little dinghy pops out to the Buchholz' boat and ties alongside. I don't realise then but it's Chris Baglin, another friend and supporter. Then we zoom past the harbour and there are a few friends waving from the harbour wall so I give some exaggerated waves in my stroke (going too fast to chat) and then the tide grabs us and the water gets shallow and we just zoom past rocks and we are swept into Grouville Bay.
It's sometimes quite hard to even know what is going on around you as the majority of the time your head is face down in the water; luckily we all had great crews to rely on to direct us.
East Coast
This time I take longer in my feed than the others and before I know it Toni has whacked on the speed and I'm a quarter of a mile behind them; really had to get my speed going and after 25 minutes we are together again.
The other obstacle reported by harbours was that there was a ferry going to Carteret and heh ho just as we arrive off Gorey Harbour the ferry is just going out (probably heard I was coming past). I stare at the ferry longingly – a friend had advised that he was going to lunch in Carteret – cor that would be nice.  We settle on our third feed and I have some banana and one of those High 5 jells; not quite as good as lunch in Carteret!  Then we are off and Toni is once again hitting pace and before we know it we are in the choppy waters off St Catherines.  I don't get sea sick but then aghhhhh, that gel, really does not sit well.  I stop in the water and belch and really don't feel well at all.  I see a concerned look from the others but they have to keep crackin on. In all my dithering I get taken further out than the others. Sally changes my feed and before I know it I'm feeling fine and crackin on the speed.
Craig and Toni enquired to see how Haircut (I) was and were told he was feeling sick. They were told to push on and both knew that he would catch them as he can't cope with being at the back, ever! Every swim is a race and they knew full well to let me win or they would never hear the end of it.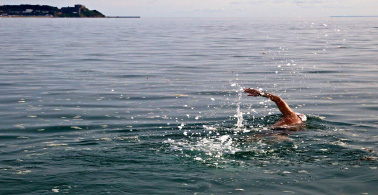 North Coast
Now that was my first wobble but now I'm cruisin along.  We stop for another feed and yiphee I have overtaken the others.  See what I mean!!  Some manoeuvring from Sally who knows the ocean better than anyone; and because I was in the rip for longer I'm further out and getting more of the tide.  Ouch another jelly sting on the nose (cheeky blighter) and I notice there are starting to be more jellies again.  Another boat arrives, and this time its Francis Clayton looking at me strangely as he cannot believe I have made it this far!  We are now roughly half way and time for another feed.   I am surprised we are this far already, and I wonder where our running colleagues are as I can clearly see Plemont. But my lead is diminishing as I have to swim further in to compensate for catching the tide earlier.  This is a long slog and just as we arrive at Plemont Craig catches me and powers past with a big grin; but not before Sally tells him off for drafting me – the lazy git had started to get cold so Wendy told him to up his pace.  I stop for a feed and once again I get pushed further out than the others – genius Sally's tactics.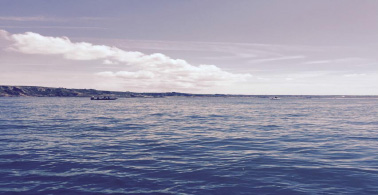 West Coast
We are into St Ouens bay now, Corbiere shimmers in the distance and we stop for another feed.  The tides have slowed and we don't seem to be making much progress. Toni & Craig are ahead of me on the inside. I quickly see the two other swimmers and their boats a mile or so behind – wow they are catching too.  Gary & Darin look around in alarm as I whimper in pain.  No its not a jelly but just really severe cramp like I have never felt before. Sally gives me some banana and a milky way and tells me to get a move on.  I whine at Gary & Darin that I want the boat behind me as I don't want to be lifting my head and thus dropping my feet. OK I have reached a low point. Start feeling the cold somewhat too. Another jelly sting and my left shoulder is pinching. Another hour and we are still in St Ouens Bay time for another feed.
St Ouen's Bay was really hard as we just do not seem to be gaining any distance and Corbiere Lighthouse isn't getting any closer. We were a long way off from shore and it was hard to spot any landmarks to offer any encouragement that we were actually moving along.  The boat crews were really encouraging at this stage, except Chris Baglin who regularly shouted abuse to get Toni going, but we wouldn't expect any less from him!!
Craig is given a mixture that disagrees with him as he swims face first into a large jellyfish – whereupon he experiences my earlier mishap and cannot keep anything in the rest of the way.
Corbiere – The end in Sight
We near Corbiere and I can feel the tide.  I vaguely sense the shouts and waves from the headland from a very loud bunch of supporters (we need every bit of encouragement at that stage)but am more focussed on not getting sea sick and not drinking some sea water so I keep my head down and then we are past and on the home run.  Suddenly there are shouts and laughter and I look up and there is the nutter Fergie on a sup board taking pictures of us individually as we paddle on past.  Craig tries to greet Fergie but just spews in his direction – embarrassing but luckily not caught on camera.  As we swim on I 'm told we need two more feeds and off La Moye we stop for a feed.  Time for some Ibrufen washed down with a cuppa tea as shoulder is well sore.  Craig declines all further feeds and now has a raging headache.  I can see Toni & Craig, well their boats anyway, Toni half mile ahead and Craig another half mile again.  I know I can finish now and I need to get some speed in as I also have a runner to beat. Plus I need to shake this cold feeling and must win the race.
There was another large crowd of supporters on the headland and I stopped to wave, really appreciative of their support – pity they could not hear me as I do like a chat.
St Aubins Bay and the Finish
The tide is pushing hard as we Slip past Portelet and I get my last feed of coffee with some HI5 sprinkled in.
To hit the end of the breakwater on Elizabeth Castle, you have to avoid the tide sweeping you either into St Aubins Bay or straight past the end of the breakwater.  Craig takes the wrong line and is pulled into St Aubins – but he will say he wanted me to win as he is such a good mate.  Sally is standing at the front pointing the direction and we are flying along.  I can hear the roar of people on Noirmont and the smiles on the boat tell me its all going well.  As we get the right position, Sally's arm flys down and its time to dig deep and go for it I can see Toni just in front and I see her crew smiling down as we just fly past.  I hear some mumbled message about being Haircut 100 and slowing down but the brakes are off.  Still seems ages to get to the breakwater and its only then that I realise that Craig has slipped too far into the bay – sucker – but heh! we did it.
Toni says – "I can hear lots of shouting and then I am aware that Haircut is level with me and he is once again in race mode, he does it every time!!"
We completed the swim all within three minutes of each other with the last one coming in at 10.44hrs and we became the 99th/100th & 101st folk to swim around Jersey.  Aidan the runner beat us by 50 minutes and he was apparently neck and neck with us in St Ouens Bay.
Messrs Coleman and Pallet followed, both doing great times too.
We trained for six months for this and we had major panic attacks along the way; but every training session was fun and as Craig has said "we could not have picked better training partners – the three amigos – and of course we could not have done it without our amazing support crews who gave up their time to guide and be with us on the day".
When we initially started in the sea in early May (just over 10 degrees) we could not even hold a cup of tea after spending 30 minutes in the water. We gradually became more accustomed to the cold water and we persevered.  We had great time training and enjoyed a very special day. And we will hold and treasure this unique memory forever.
Massive thanks to Sally (who kept tabs on our training progress and cajoled us to focus and do the right thing throughout), Wendy, Dee, Gavin Chits, Gary, Darin, Cameron, Euan, Ralph and Chris Baggles for all their encouragement and support on the day.  An amazing group of people.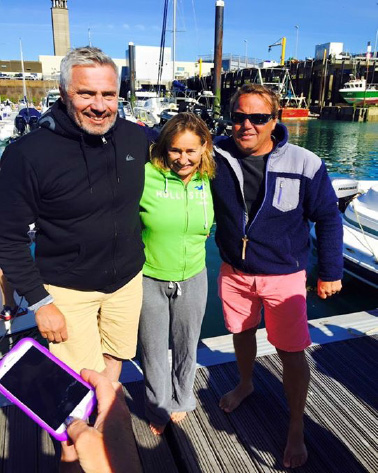 The Important Bit
A big thank you to all the support teams! From a swimmer's perspective, these are the people who keep you going and make the whole thing possible. Thanks you all so much.
And even bigger thank you is to all of you who made this swim worthwhile by pledging your donations to The Grace Crocker Foundation.  £10,000 and still counting.
https://race-nation.com/donate/80
Many thanks to all of you. Next year!!!! We will probably do some mad swim but we will continue with the Grace Crocker Charity Challenge. Canoe, Swim, relay Swim, run watch this space. Possibly the 23rd July if you are interested????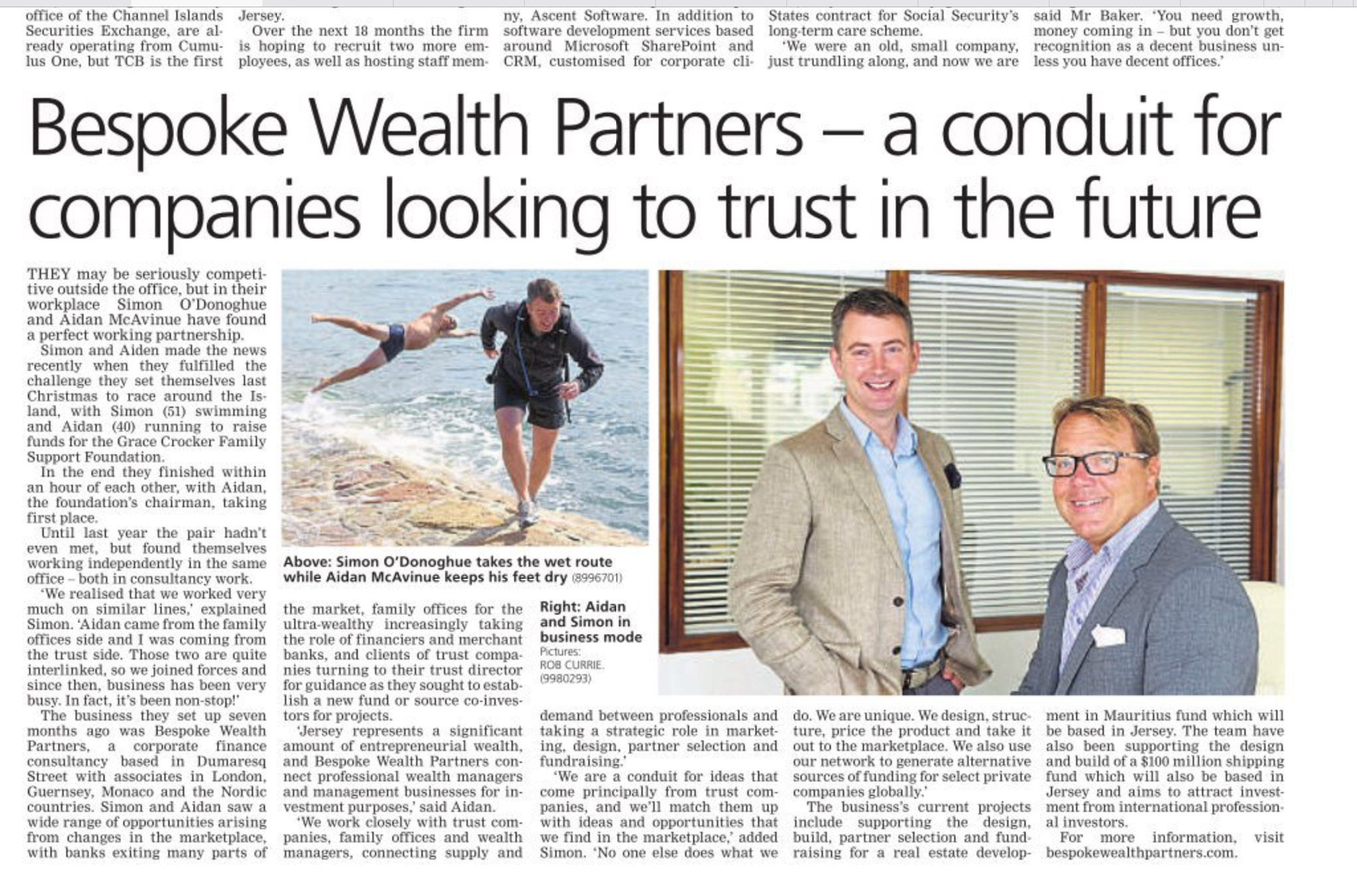 Newspaper coverage – click to enlarge